Home
Over 100 Years of Combined Home Health Experience
Licensed by the State of Oklahoma
Tricare Provider
Medicare and Medicaid Certified

Eight County Coverage
Lawton / Fort Sill Chamber of Commerce Member
Locally Owned and Operated by Nurses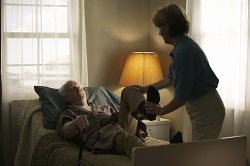 How Do I Access Southwestern Home Health?
Referrals to Southwestern Home Health can be made by the physician, discharge planner, family, friends, a community agency, or even the patient. However, all medical treatment and hands-on care require physician orders prior to services.

To be eligible for home health services you must be under the care of a physician and require intermittent care. This care is provided by licensed professionals and certified home health aides.

For Medicare eligibility you must be home bound. This does not mean bed bound. The question to ask is: Is it a taxing effort to leave home, which usually requires the assistance of another person or device?

For superior home care services, please contact Southwestern Home Health today. We do not discriminate on the basis of race, color, national origin, disability, sex, creed, or religion in the delivery of services or employment.
Send to Phone
Your text message was sent.
To opt out at anytime, send the word STOP to YP411 from your mobile phone.
To get a help message, send the word HELP to YP411 from your mobile phone.
Please try again
You must enter a vaild 10 digit U.S. phone number.
Send this business listing as a text message to a mobile phone.
Southwestern Home Health Inc.
910 SW 38th St. Ste. A, Lawton, OK 73501
580-248-7060, 888-737-7174
- -
Terms: The recipient of this text message may incur charges depending on their wireless carrier. Not all carriers are currently supported